Special Welcome to our Guest Artist!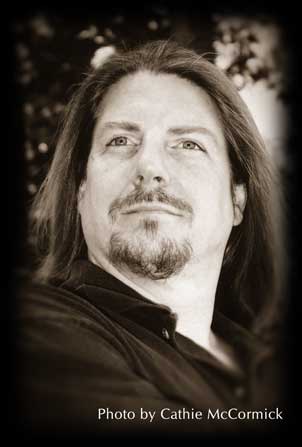 Artist
Mitchell Davidson Bentley
spent the last 20 years moving physically from place to place and artistically from traditional oils to cyber compositions. Trained in the traditional medium of oil by his mother, and inspired by his grandfather's love of science fiction, Bentley began his career as a full-time science fiction artist in 1989 from his home base in Tulsa. While actively involved in the science fiction art world, Bentley also moved from Tulsa to Austin to Central Pennsylvania where his search for knowledge earned him bachelor's and master's degrees from Penn State University. Over the same period of time, Bentley shifted from the more traditional oil painting to airbrushed acrylics, and since 2004 has been working exclusively in electronic media.
As the Art Director of Atomic Fly Studios, Bentley produces cover art, marketing materials and Web sites while he continues to produce quality 2D artwork marketed through the AFS Web site and at science fiction conventions across the United States.
Bentley has lectured at universities, worked in film, edited publications and served as Artist Guest of Honor at more than a dozen science fiction conventions. He has also earned 35 awards, is a lifetime member of the Association of Science Fiction and Fantasy Artists and a member of the International Association of Astronomical Artists.
He currently resides in Harrisburg, PA with his partner Cathie McCormick and their two cats, Spike and Zoe. Bentley's Web address is:
Atomic Fly Studios
---
Willing to post a flyer for us? Take look and download the
Current Flyer
courtesy of
Atomic Fly Studios
.
---